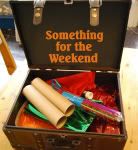 Living here in the Westcountry, I am surrounded by stunning scenery, beaches, woodland etc... that I guess is taken for granted when you are a resident here. With half term coming up, if any of you are down this way or will be at some point, why not visit the North Devon towns of Lynton & Lynmouth for a few hours.
The breath taking combination of sweeping moorland with high, rugged, tree-clad cliffs and inviting sheltered bays make Lynton and Lynmouth almost unique.
Both towns grew up slowly around two splendid deep and wooded river valleys, those of the East and West Lyn which have their beginnings in a maze of tiny streams high up on Exmoor and meet as they reach the sea at Lynmouth.
It was during the Victorian era that these twin towns were made into holiday resorts, and their peaceful and quaint charm led the Victorians to call them the 'Little Switzerland of England'.
The two towns also feature
the famous Cliff Railway which operates at a
gradient of 1:1 3/4 covering a
vertical height of approximately 500 feet.
The gauge is 45 inches and each car has a 700 gallon water tank
which is filled at the top and emptied at the bottom, thus causing
the lower car to be pulled up to Lynton,
while the heavier car from the top descends to Lynmouth.
The Cliff Railway was officially opened in 1890 and is a fun way to transport yourself from one town to the other, combined with some spectacular views as you travel on it.
1952
However, the history of Lynmouth will be forever overshadowed by the tragedies that happened on August 15th/16th 1952. Britain and the world responded immediately when 90 million tons of rain fell on Exmoor in twenty-four hours which created a flood that took 34 lives (including 28 in Lynmouth / nearby Barbrook) and destroyed many buildings in the area.
2009
There is a museum in Lynmouth which has lots of information and photographs of the flood disaster which is a really interesting place to visit.
There are also lots of souvenir shops, ice cream parlours, handmade fudge shops and eateries where you can enjoy one of these mmmmm!!
The last time I visited this beautiful place and rode on the cliff railway was back In July 2009, I remember it very well because the next morning my contractions started! Must have been that exhilarating railway journey mixed with a cream tea :0
Dont forget to check out the other great ideas for SOMETHING FOR THE WEEKEND over at the
Thinly Spread
blog