This week's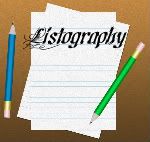 "/>
is being hosted by Keith from
Reluctant Housedad
and his theme is the
Finals
which is inspired by, in his own words,
S
o, after much head-scratching and several pints of Doombar, the best I've come up with for this week's Listography is: FINALS
Here's the premise. A couple of weeks ago we were told the world was going to end. It didn't (did it? have I missed something?) so The End has now been re-scheduled to December 21 2012.
That leaves us with 18 months to prepare our
Final Farewells, Final Suppers, Final Words, Final Destinations, Final Resting Places, Final Shags
and lots, lots more.
Hmmmm , certainly a theme which got the old brain ticking over!!
So here are mine, in no particular order
1.
Final Destination
There are so many wonderful destinations around the world which i have yet to visit, and would love to if the end of the world was approaching. I guess I will choose a road trip across America as my final one as it would last a while (so would need the world ending to take at least 3 months lol). Would be great to hire a Winnebago to do the trip in so we can take a home from home with us.
Would have to be:
*prawn cocktail, yes retro but still tasty!
*My Mum's roast beef dinner because it is the best roast dinner on the planet - no, really it is!
*sticky toffee pudding with toffee ice cream
3.
Final Party
Well if the world was ending, may aswell have a good send off. If money was no object aswell, I would like all my friends and family to attend and it would be great to hire a top notch caterer to provide the food, and a gorgeous 5 star country hotel so we can all live it up in style together. Thinking about it we could all max out our credit cards because we would never have to make the repayments!
4.
Final Words
"I love you and thank you for making my life complete " directed to my boys (this has now made me teary thinking of this -thanks Keith!). I would tell my OH I loved him too, but the boys would have the final sentence I ever said.
5.
Final moment
Holding my boys tightly, kissing them and smelling them (love that baby/toddler smell) and no doubt crying whilst having the OH cuddle me and them.
Ok now I am actually depressed and upset!! What a sad ending to this weeks listography! :(
Hopefully the world isn't going to end just yet!
ANYWAY, If this hasn't depressed you too much, or if it has and you want cheering up, pop over to Keith's blog and check out what Final 5 lists have been compiled by other people!