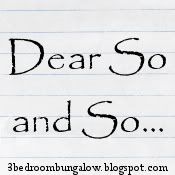 I have always wondered where these Dear Do and So posts originated, and having just found out via
Dreaming Of Beer
that they are the creation of
Three Bedroom Bungalow
, and a new one is available to join in with, well I couldn't resist!
Dear Jenson
,
When you are feeding, please stop wriggling and trying to have a nose at what is going on around you. Mummy's milk ends up shooting off in various directions leaving you and I with wet patches, and you end up choking because it has gone down you the wrong way! And don't grumble at me when it has gone down the wrong way, or you have milk in your eye or you wonder where my nipple has gone when you decide to return to it after I have put it away - you are the fidget!!
Thank you
Lots of love
Mummy xx
Dear Burton,
When I have gone to the trouble of cooking you a delicious, healthy and nutritious homemade meal, please have the good manners to eat it - at least try it. And don't throw a toddler tantrum when I won't get you a snack instead - it's for your own good. Besides, if anyone should throw a strop it should be me!
Thank you
Lots of love
Mummy xx
Dear hair,
Please stop falling out everywhere its very annoying to have to go around with the hand held Hoover, constantly trying to pick you up out of the boys way! You end up blocking the shower, you are on the floors, on my bed and on my arms! Not to mention how you end up in Jenson's cot and on his and Burton's clothes! I Lways worry one of them might choke on you. Please just stay put!
Yours annoyingly,
Me
Dear Weather
,
What is your problem? It's meant to be summer and all you want to do is rain! I don't expect or want heatwave conditions, but just some pleasant dry weather would be appreciated, so I can take my children out in the fresh (dry) air. Come on, sort yourself out Purlease!
Yours miserable like you are,
Jenny Paulin
For more letters of of discontent please go
HERE