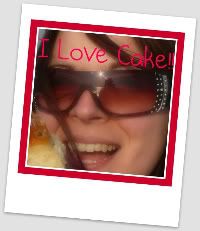 Firstly, a big thank you to those of you who joined in with my first
I Love Cake
linky. I really loved how you got your gorgeous children to join in with the cake making fun.
So the cookalicious Nick from
My Daddy Cooks
very kindly judged the Cup Cake Challenge and the results are in!! Take it away Nick:
I loved looking through the entries.


Special mention goes to this post for the extreme mess prevention technique of cooking with a half naked toddler!


The Boy and Me somehow contrived to make green butter icing which, in my opinion, deserves an award in its own right!


Lara and Emma definitely used the prettiest decorations...


These cupcakes were gorgeous, all the more so because they used Amy Lane's brilliant book.


I LOVED the idea of using cornets for the base


I may well be making these Oreo cakes myself!


Brilliant effort by little Jack and

I

was particularly impressed with Kayleigh's skills and concentration


But ultimately the two winners are the posts which made brilliant original recipes.


These fruit and nut cupcakes were always going to win. After all, fruit and nut is my favourite chocolate bar!


And being a chocolate fiend, the mere title of this post was always going to be a major contender! Plus I loved the photos of Noah helping in the kitchen.


All in all, brilliant efforts from everyone - well done!
Yay! Well done everyone and especially Lauren/Charles and Kerry/Noah. Please let me have your contact details so I can have your prizes forwarded on to you.
Also a massive thank you to Nick for taking the time out of his busy schedule to judge this competition and for generously agreeing to donate two of his fab cookery books as prizes.
October's I Love Cake theme will be
HALLOWEEN
- more details to follow very soon.