Paddling pools are such fun, aren't they?

I find it doesn't take much to entertain my two boys, especially Burton, on a warm day than to fill up a pool with some water and let them get wet!!
As many of you will know, Burton has always been a water baby - he is like a fish and will sit in a pool for hours until his lips turn blue from the cold!
BUT the first time he sat in a paddling pool was back in June 2010 when he would have been 11 months old, and we attended a birthday party where there was one in the garden and after watching with interest for a while I decided to put him in the water. He wasn't too sure that first time but after a few minutes he soon realised what splashing fun he could have!
So I bought a small paddling pool for our backyard and let him have another go a few weeks later, he took it in his stride much more then!
By the following summer he was a fully fledged member of the paddling pool club and couldn't wait to get in and get splashing, despite the water not being that warm!!
This year he has been allowed a deeper paddling pool which means more water, which means even longer staying in!!! Plus of course being able to go under the water and hold his breath, which means him drinking the pool water more despite his protests he isn't but I know he has by the number of wees he has to have!
This summer has seen Jenson try out a paddling pool for the first time too - another fish in the making me thinks!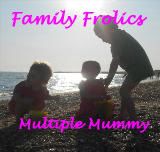 and