When I owned my own cafe pre Burton, every Halloween I would sell a flavoured coffee special of Pumpkin Chai Latte. Remembering how popular that drink was, it got me thinking about making a cake which included the flavour of the chai tea and pumpkin and here it is.
A great way to use up pumpkin or squash (or even carrot)
Ingredients:
For the sponge
500g pumpkin/squash - grated or cut into very small chunks - I did both to add some texture and bite
175g sultanas (or raisins)
3 chai tea bags mixed with 1 cup of boiling water (left to stew for about 5 minutes)
300g self raising flour
300g dark brown sugar
200ml oil ( I used vegetable)
4 eggs, beaten
3 tsp mixed spice
pinch of salt
2 tsp bicarbonate of soda
for the topping
1 tub of Betty Crocker vanilla buttercream
1- 2 tsp cinnamon (depending how strong you like it)
small bar of milk chocolate, grated
Method
for the sponge
make a cup of black chai tea using 3 teabags and allow to stew for at least 5 minutes to get good flavour
Then place your sultanas and pumpkin/squash into a bowl, pour over the tea, mix and then cover and allow to soak for a few hours or if you have time, overnight.
Once the soaking has taken place, preheat your oven to 180oC / 160o C fan
Place all your dry ingredients in a bowl.
Beat together the oil and eggs and pour onto the dry ingredients and mix lightly.
Add the soaked sultanas and pumpkin/squash - a little bit of liquid will enter the mix which is ok but not too much else the cake batter will be too wet
Mix together lightly to remove traces of the dry ingredients - but be careful not to over mix!

Grease and line a large baking tin I used a round one due to it having a removable base!
(shallow square tin would ned to measure 20 x 30cm)

Pour batter into tin



and bake for 50-60 minutes approx until cake is cooked through and a skewer comes out clean

Once cooked remove and allow to cool



for the topping
Obviously you can make your own buttercream but I had a tub of the ready made that needed using up which I simply mixed with the cinnamon.

Once your cake is completely cooled, cover with the cinnamon and vanilla buttercream
Then scatter the grated chocolate over the top for garnish


And thats it! Its got a lovely fragrant spicy flavour, is very moist and the buttercream compliments it really well.


Chai Spiced Pumpkin Cake - yummy!



I LOVE CAKE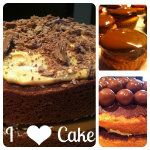 This month's theme is Halloween so if you have any spooky treats, creepy cakes, murderous muffins, frightening flans, pumpkin pies or anything seasonal for this time of year please link up below and show off your I Love Cake creations.